OXLAJUJ KAN ~ Today's Ch'umil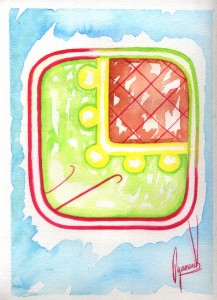 Let us remember the importance of being present and aware, of opening our mind and our being to the connection we have to everything. This day invites us to awaken our perception, to break the limiting ideas of our mind in order to see the energy that surrounds us and which exists within us, that flows through our spine, expands through our body and reconnects us with our divine nature, awakening our power to heal, to transmute, to expand our consciousness, and to elevate our energy to the vibration of love. Today Oxlajuj Kan reminds us that the power to transform ourselves and fulfill our highest potential lies within us.
This is the last day of the Aj trecena, let us take a moment to give thanks for the physical, mental, emotional, and spiritual strength that during this period has allowed us to overcome the obstacles in the path and to evolve a little more each day.
Recordemos la importancia de estar presentes y conscientes, de abrir nuestra mente y nuestro ser a la conexión que tenemos con todas las cosas. Este día nos invita a despertar nuestra percepción, a romper las ideas limitantes de nuestra mente para poder ver la energía que nos rodea y que existe dentro de nosotros, que fluye por nuestra columna, se expande por nuestro cuerpo y nos reconecta con nuestra naturaleza divina, despertando nuestro poder de sanar, de transmutar, de expandir nuestra consciencia y elevar nuestra energía a la vibración del amor. Hoy Oxlajuj Kan nos recuerda que el poder de transformarnos y alcanzar nuestro más alto potencial esta dentro de nosotros.
Este es el último día de la trecena de Aj, tomemos un momento para agradecer la fuerza física, mental, emocional y espiritual que durante este período nos ha permitido vencer cada obstáculo en el camino y desarrollarnos cada día un poco más.

Latest posts by Denise Barrios
(see all)