OXLAJUJ B'ATZ' ~ Today's Ch'umil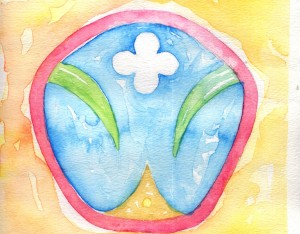 Today we are guided by Oxlajuj B'atz' who manifests the energy of the interweaving of time. It is the origin of creation, the thread of destiny that weaves everything that has occurred in the past, that is happening now, and that will occur in the future.
The wisdom contained by this Ch'umil reminds us that life is an interweaving in which each instant, each action, and each person who forms part of it is like a thread that gives color and magic to our existence. Let us make every moment of our life count, living each instant with awareness, and acting from love, that healing and powerful energy which is the essence of B'atz'.
Today is the last day of the Kawoq trecena, let us give thanks for the abundance in our lives, for each shared experience, and for each moment that has allowed us to contribute to the collective purpose that we have as human beings and as part of Mother Earth.
Hoy nos rige Oxlajuj B'atz' quien manifiesta la energía del entretejido del tiempo, es el origen de la creación, el hilo del destino que teje todo aquello que ha ocurrido, que ocurre y ocurrirá.
La sabiduría contenida por este Ch'umil nos recuerda que la vida es un entretejido en el que cada instante, cada acción y cada persona que forma parte de este es como una hebra que le regala color y magia a nuestra existencia. Hagamos que cada momento de nuestra vida cuente, vivamos conscientemente cada instante y accionemos desde el amor, esa energía sanadora y poderosa que es la esencia de B'atz'.
Hoy es el último día de la trecena de Kawoq, demos gracias por la abundancia, por cada compartir y por cada momento que nos ha permitido aportar al propósito colectivo que tenemos como seres humanos y como parte de la Madre Tierra.

Latest posts by Denise Barrios
(see all)