OXLAJUJ AJPU ~ Today's Ch'umil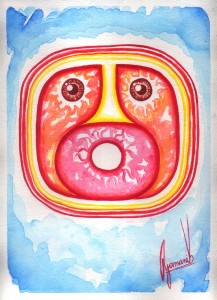 Ajpu is the blowgun hunter, it is the spiritual warrior that radiates strength and certainty, it is the energy of Father Sun. This Ch'umil gives us the ability to be connected with everything that surrounds us in order to obtain certainty in what we do, to be fully aware of our actions, connected to the present moment. The number Oxlajuj -13- brings with it the magic that helps us create and achieve fulfillment.
The energies of this day teach us that we must seek certainty in every action, clarity in everything we undertake, taking each step with awareness, connected to the now and understanding ourselves as part of the whole. Today is the last day of the Q'anil trecena, which invites us to put into action everything we have sown, initiated, and developed, Oxlajuj Ajpu gives us the strength and magic we need to materialize it.
Ajpu es el cerbatanero, es el guerrero espiritual que irradia fortaleza y certeza, es la energía del Padre Sol. Este Ch'umil nos da la habilidad de estar conectados con todo lo que nos rodea para obtener así la certeza en lo que hacemos, para estar completamente conscientes de nuestras acciones, conectados al momento presente. El número Oxlajuj -13- trae consigo la magia que nos ayuda a crear, a alcanzar la realización.
Las energías de este día nos enseñan que debemos buscar la certeza en cada acción, la claridad en cada cosa que emprendemos, dando cada paso con consciencia, conectados con el ahora y comprendiéndonos como parte del todo. Hoy finaliza la trecena de Q'anil que nos invita a llevar a la acción todo aquello que hemos sembrado, iniciado y desarrollado, Oxlajuj Ajpu nos da la fuerza y magia que necesitamos para materializarlo.

Latest posts by Denise Barrios
(see all)