OXIB' TIJAX ~ Today's Ch'umil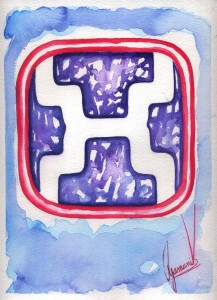 Let us venture to travel along the new paths to be explored, let us walk with the awareness that when we allow ourselves to discover, to look a bit further, we are opening the space and the opportunity to new possibilities and realities, we expand the idea of who we are and who we choose to be. Tijax is the power that opens those paths that allow our development, that helps us to free ourselves from our limitations and connects us to our inner power. The number Oxib' -3- emerges from the convergence of two energies that come together to create something new, it is the results of our actions. Today that Oxib' Tijax is complemented by the trecena of Ajmaq, the space arises for us to nourish ourselves with new knowledges.
We exist in a world of infinite possibilities and realities that are revealed at the perfect time for us to expand our consciousness, to unveil our purpose and power. Let us embrace the new realities and insights that come to us through the power of this day.
Atrevámonos a transitar nuevos senderos por conocer, caminemos con la consciencia de que cuando nos permitimos descubrir, ver un poco más allá, estamos abriendo el espacio y la oportunidad a nuevas posibilidades y realidades, expandimos la idea de quienes somos y de quienes escogemos ser. Tijax es el poder que abre esos caminos que permiten nuestro desarrollo, que nos ayuda a liberarnos de nuestras limitaciones y nos conecta a nuestro poder interior. El número Oxib' -3- es la convergencia de dos energías que se unen para formar algo nuevo, es el resultado de nuestras acciones. Hoy que Oxib' Tijax viene acompañado de la trecena de Ajmaq surge el espacio para que nos nutramos de nuevos conocimientos.
Existimos en un mundo de infinitas posibilidades y realidades que nos van siendo reveladas en el momento perfecto para que podamos expandir nuestra consciencia, para que se vayan desvelando nuestro propósito y poder. Abramonos a las nuevas realidades y saberes que vienen a nosotros por medio del poder de este día.

Latest posts by Denise Barrios
(see all)