OXIB' KAME ~ Today's Ch'umil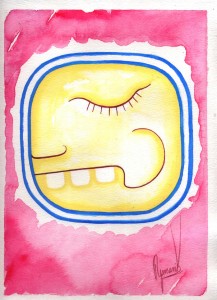 In this cycle in which the 20 energies that shape this reality and which influence our life manifestations, today we absorb the energy of Ajaw 3 Kame.
"3 Kame created death." -Chilam B'alam de Chumayel, Maya Yucatec text.
Ajaw Kame is the closing of cycles, it is the energy that teaches us that everything that starts has an end. This sign signifies death, but Kame is not only physical death, but it is also every transition and cycle of life. Our life is conformed by different important cycles that shape us. These are represented in the turns of the spiral of the Najt, space-time, which tells us that all that happens, returns. Let's remember that our evolution is not linear, it is rather a spiral and the experiences always come back, not in the same form, but in a similar way and according to the energies of that moment. It is in that way that we transit through each of the stages of evolution. This gives us the perfect experiences so that we can transform our knowledge into wisdom, this way we can reach the objectives that form part of our evolutionary process. These cycles are usually related to the Sacred Calendar and they can happen every 20 or 260 days, every 52 years, or when we reach the different important stages of our life such as 13 or 52 years of age. If we pay attention to the extraordinary events of our life, if we keep a record of these, we will begin to understand and decipher our evolutionary process and we will be able to foresee each one of these cycles. Kame is also the different dimensional spaces in which we continue our evolution as spiritual beings; its energy is the one that communicates us with the transcended grandmothers and grandfathers who reside in these spaces. This Ch'umil is the one that opens the space for us to learn from these supreme beings, to obtain their guidance, their advice, and to be able to advance in the path to healing our lineage. The power of Kame is the one that protects us from accidents and death. Today we can offer a black or purple candle to thank the energy and protection of Ajaw 3 Kame. Let's ask this Ch'umil to open the spaces of communication with the wisdom of our ancestors so that we can connect with them and do the very important work of healing what they could not heal, of advancing in the sacred path of learning, that path that comes from our family lineage.
En este ciclo de 20 días en el que se asientan las energías que crearon el universo, hoy recibimos el poder de Ajaw 3 Kame.
"3 Kame fue la invención de la muerte". -Chilam B'alam de Chumayel, texto Maya Yucateco.
Ajaw Kame es el cierre de los ciclos, es la energía que nos enseña que todo lo que comienza tiene un límite, un final. Literalmente este signo significa la muerte, pero Kame no es solo la muerte física, es toda transición, es los ciclos de la vida. Nuestra vida está conformada por distintos ciclos importantes que nos van formando. Estos están representados en las vueltas de la espiral del Najt, espacio-tiempo, que nos dice que todo lo que ha sucedido vuelve a retornar. Recordemos que nuestra evolución no es una línea recta, es más bien una espiral y las experiencias siempre retornan, no de la misma manera, pero de una forma similar y acorde a las energías de ese momento. Es así como vamos transitando por cada una de estas etapas de evolución que nos traen las experiencias perfectas para poder ir transformando el conocimiento en sabiduría, alcanzando cada uno de los propósitos que forman parte nuestro proceso evolutivo. Estos ciclos suelen estar relacionados al Calendario Sagrado y pueden suceder cada 20 o 260 días, cada 52 años, o cuando alcanzamos las diferentes etapas importantes de nuestra vida como lo son los 13 o 52 años de edad. Si prestamos atención a los eventos extraordinarios de nuestra vida, si vamos llevando un registro de ellos, podremos ir comprendiendo y descifrando nuestro proceso evolutivo personal y prever cada uno de estos ciclos. Kame también simboliza los distintos espacios dimensionales en los que continuamos nuestra evolución como seres espirituales; su energía es la que nos comunica con los abuelos y abuelas trascendidos que habitan en estos espacios. Este Ch'umil es quien nos abre el espacio para aprender de estos seres superiores, para obtener su guía, su consejo y poder avanzar en el camino de la sanación de nuestro linaje. El poder de Kame es el que nos protege de los accidentes y la muerte. Hoy podemos ofrendar una vela negra o morada para agradecer la energía y protección de Ajaw 3 Kame, pidamos a este Ch'umil que nos abra los espacios de comunicación con la sabiduría de nuestros ancestros, que podamos conectar con ellos para hacer el tan importante trabajo de sanar lo que ellos no pudieron, de avanzar en ese camino sagrado del aprendizaje que proviene de nuestro linaje familiar.

Latest posts by Denise Barrios
(see all)