OXIB' AJ ~ Today's Ch'umil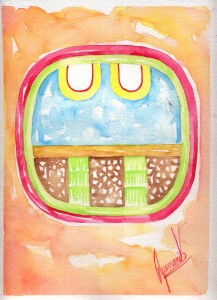 This day manifests the power of Oxib' Aj, the Ch'umil that emerges at the moment of creation to lay the foundations. Its energy is the one that creates the conditions for the planetary systems and galaxies to be established, allowing everything in the Universe and on Earth to find its place, its bases. That is the essence of Aj, to establish, to sustain, it is the structures that hold this reality and give strength to our being.
Aj is the energetic pillar that unites the Heart of the Sky with the Heart of Mother Earth, that enables our connection with these spaces. It is our body as a sacred altar and is the symbol of spiritual authority. Today we can light a white or yellow candle to open the pillars of connection with the cosmic-telluric wisdom and for its energy to provide us with the strength and foundation we need in life.
Hoy se manifiesta el poder de Oxib' Aj, el Ch'umil que en el momento de la creación surge para que se sienten los cimientos. Su energía es la que crea las condiciones para que se establezcan los sistemas planetarios y las galaxias, para que todo en el universo y en la tierra encuentre su lugar, sus bases. Esa es la esencia de Aj, el establecer, el sostener, es las estructuras que sostinenen esta realidad y que dan fuerza a nuestro ser.
Aj es el pilar energético que une al Corazón del Cielo con el Corazón de la Madre Tierra, que posibilita nuestra conexión con estos espacios. Es nuestro cuerpo como un altar sagrado y es el símbolo de la autoridad espiritual. Hoy podemos encender una vela blanca o amarilla para abrir los pilares de conexión con la sabiduría cósmico-telúrica y para que su energía nos de la seguridad y las bases que necesitamos en la vida.

Latest posts by Denise Barrios
(see all)