LAJUJ TZ'I' ~ Today's Ch'umil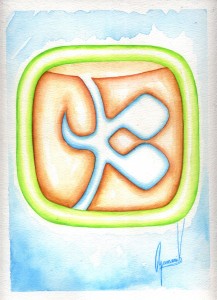 Lajuj is a contained force that when activated can energetically impel what we want to create.
How can we activate the energy of this number? The teachings of the Maya speak of consciousness as one of the essential powers of life, and we are not only talking about being aware of our actions, of our words and thoughts, but also of being conscious of the inner power that exists within us, knowing that we are creative beings, full of possibilities, of gifts and of all the wisdom we need to achieve anything.
Today the energies remind us that magic is energy; that everything, including ourselves, forms part of this energy and this is what gives us the ability to manage it, we only need to be mindful of our potential, observe and know ourselves to understand how the power of creativity works for us, how to synchronize ourselves and manage the energies.
Tz'i' gives us the understanding we need to comprehend the sacred knowledge, to remember the wisdom we possess within.
Lajuj es una fuerza contenida que al ser activada puede impulsar energéticamente aquello que queremos crear.
¿Cómo podemos activar la energía de este número? La enseñanza Maya nos habla de la consciencia como uno de los poderes esenciales de la vida, y no hablamos solo del ser conscientes de nuestras acciones, de nuestras palabras y pensamientos, sino de tener también la consciencia de que existe en nosotros el poder interior, de que somos seres creativos, cargados de potenciales, dones y de la sabiduría que necesitamos para lograr las cosas.
Hoy las energías nos recuerdan que la magia es energía; que todo, incluyéndonos a nosotros, forma parte de esta energía y eso es lo que nos da la capacidad para manejala, solo debemos ser conscientes de nuestro potencial, observarnos y conocernos para tener el conocimiento de cómo funciona para nosotros el poder de la creatividad, el poder de sintonizarnos y manejar las energías.
Tz'i' nos da el entendimiento que necesitamos para comprender los conocimientos sagrados, para recordar la sabiduría que poseemos dentro.

Latest posts by Denise Barrios
(see all)