LAJUJ Q'ANIL ~ Today's Ch'umil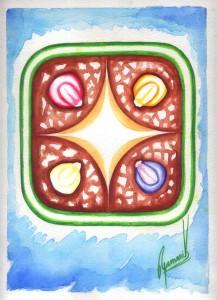 A powerful energy flows during this day which connects us to the wisdom contained by the Universe and Mother Earth, it is a force that will impel us if we know how to activate it, it will help us to realize our projects, advance in our processes of growth. Today is a good moment to work on what we want to achieve, not only in the material plane, but also in our personal development. Let us remember that every process begins with that first seed that we plant, a seed that can be an idea, a word, an action, any creative act. The day opens the space for us to connect to our inner teacher, to the higher self, so that it can guide us on the path.
The Kawoq trecena tells us that our personal fulfillment also comes from helping others on their path. May we leave a positive mark in the lives of those with whom we share.
Durante este día fluye una energía poderosa que nos conecta a la sabiduría contenida por el Universo y la Madre Tierra, una fuerza que si la sabemos activar nos impulsa y nos ayuda a concretar nuestros proyectos, a avanzar en nuestros procesos de crecimiento. Hoy es un buen momento para trabajar en todo aquello que queremos alcanzar no solo en el plano material, sino en nuestro desarrollo personal. Recordemos que todo proceso comienza con esa primera semilla que plantamos, esa semilla que puede ser una idea, una palabra, una acción, todo acto creativo. El día nos abre el espacio para conectar con nuestro maestro interior, con el yo superior, para que nos guíe en el camino.
La trecena de Kawoq nos indica que nuestra realización también surge de ayudar a otros en su sendero. Que en cada compartir que tengamos podamos dejar una huella positiva en la vida de los demás.

Latest posts by Denise Barrios
(see all)