LAJUJ AJMAQ ~ Today's Ch'umil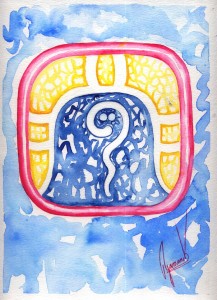 This is a day to bring harmony to those things that do not give us peace. Ajmaq is the day of forgiveness, of reconciliation, and when converging with the energy of Lajuj it brings us balance and opens the space to find the right paths that will lead us to reach harmony with the people and situations that surround us.
Let us take a moment today to establish a divine connection with our inner self through a meditation in which we seek to see ourselves without any pressures or judgments, in which instead of running away from our feelings we listen to them, we sit with them in love and empathy to achieve our inner balance and harmony.
Este es un día para armonizarnos con aquello en lo que no encontramos paz. Ajmaq es el día del perdón, de la reconciliación, al converger con la energía de Lajuj nos trae balance y abre el espacio a encontrar los caminos correctos para alcanzar la armonía con las personas y situaciones que nos rodean.
Tomemos hoy un momento para establecer una conexión divina con nuestro ser interior por medio de una meditación en la que busquemos vernos sin presiones ni prejuicios, en la que en vez de huir de nuestros sentimientos los escuchemos, nos sentemos con ellos en amor y empatía para encontrar nuestro balance y armonía interior.

Latest posts by Denise Barrios
(see all)