KEB' KAN ~ Today's Ch'umil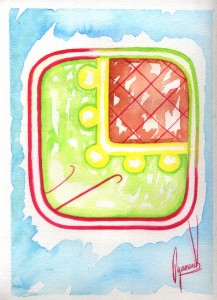 On this day we receive the power and wisdom of Keb' Kan that symbolizes the serpent as a symbol of movement, of the energy that emerges from the earthly to rise to the cosmic. In the chain of creation, Kan is the one that comes to move the energy, that provokes the action, its power goes from our DNA to the macro spiral of the Universe. The essence of this Ch'umil is that of being energy in evolution, it is the transmutation of knowledge into wisdom, thought into reality, ritualism into magic, it is the capacity to transmute all energy. After reaching the liberation that comes from K'at, Kan is the one who helps us to transform energies, to elevate ourselves from the material to the spiritual, from the earthly to the cosmic.
The power of Kan is deposited in the coccyx and moves through our spine, connecting us to the force of the Cosmos and the Earth. Today we can light a green candle with the purpose of activating the energy that resides in our being to ignite the force that is in our coccyx and activate the power of our energy centers through the power of Kan together with the fire of the candle.
En este día recibimos el poder y sabiduría de Keb' Kan que simboliza la serpiente como símbolo de movimiento, de la energía que surge de lo terrenal para elevarse hacia lo cósmico. En la cadena de la creación Kan emerge para mover la energía, es quien provoca la acción, su poder va desde nuestro ADN hasta la macro espiral del Universo. La esencia de este Ch'umil es ser la energía en evolución, es el transformar el conocimiento en sabiduría, el pensamiento en realidad, el ritualismo en magia, es la capacidad de transmutar toda energía. Luego de alcanzar la liberación que surge de K'at, Kan es quien nos ayuda a transformar las energías, a elevarnos de lo material a lo espiritual, de lo terrenal a lo cósmico.
El poder de Kan se deposita en el coxis y se mueve a traves de nuestra columna vertebral, conectándonos a la fuerza del Cosmos y la Tierra. Hoy podemos encender una vela verde con el propósito de activar la energía que reside en nuestro ser, de encender esa fuerza que se encuentra en nuestro coxis y activar el poder de nuestros centros energéticos a través de la energía de Kan en conjunto con el fuego de la vela.

Latest posts by Denise Barrios
(see all)