KAJIB' AQ'AB'AL ~ Today's Ch'umil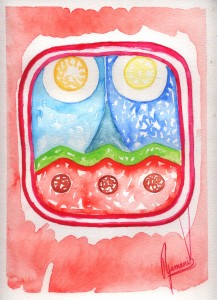 The perfect time to begin what we want to be and do is NOW.
The energy of Aq'ab'al tells us that we can always change, improve, no matter our past decisions. There is no need to condemn what we were before, for it brought us the teaching we need today to become who we want to be. Let us remember that every day, with each new minute that arises, life gifts us with a new opportunity. Let us choose today to do something different, to take a step forward in our purposes, let us develop a new habit, a new talent, let us make a change; it all begins with that first step and the time is now.
El momento perfecto para iniciar aquello que queremos ser y hacer es AHORA.
La energía de Aq'ab'al nos habla de que siempre podemos cambiar, mejorar, no importan nuestras decisiones pasadas, no es necesario que condenemos lo que éramos antes, pues nos trajo la enseñanza que necesitamos hoy para convertirnos en quienes queremos ser. Recordemos que cada día, cada nuevo minuto que surge, la vida nos regala una nueva oportunidad. Escojamos hoy hacer algo distinto, dar un paso hacia adelante en nuestros propósitos, desarrollemos algún nuevo hábito, un nuevo talento, realicemos algún cambio; se empieza un paso a la vez y el momento es ahora.

Latest posts by Denise Barrios
(see all)