KAB'LAJUJ AQ'AB'AL ~ Today's Ch'umil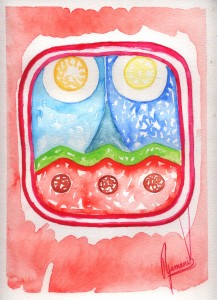 This day speaks to us about the importance of focusing on the here and now, of understanding that the miracle of life is happening in the present moment and we can only witness it if our gaze is not lost looking towards another time, towards another place.
Aq'ab'al is the dawn, it is the first ray of Sun that brings a new light, a new opportunity. This Ch'umil is the one who helps us learn that the past gives us the wisdom and experience that allows us to create the future, but that all our power lies in the present moment. The number Kab'lajuj (12) is the spiritual catalyst, the creative energy that materializes our dreams. The fusion of these two powers tells us that we should truly experience the now, being conscious that it is the energy of this instant what creates an extraordinary tomorrow, what materializes our dreams. Let us give this moment an opportunity and open ourselves through our presence to the infinite possibilities that it brings us to build the life we dream of.
Este día nos habla de la importancia de enfocarnos en el aquí y el ahora, de comprender que el milagro de la vida está en el momento presente y solo podemos presenciarlo si no tenemos la mirada perdida hacia otro tiempo, hacia otro lugar.
Aq'ab'al es el amanecer, es el primer rayo de Sol que trae una nueva luz, una nueva oportunidad. Este Ch'umil es quien nos enseña que el pasado nos regala la sabiduría y experiencia que nos ayuda a crear el futuro, pero que todo nuestro poder esta en el momento presente. El número Kab'lajuj (12) es el catalizador espiritual, la energía creativa que materializa los sueños. La fusión de estas dos energías nos habla de sentir el hoy, de estar conscientes de que es la energía de este instante la que crea un extraordinario mañana, la que materializa nuestros sueños. Demos la oportunidad a este momento y abrámonos desde nuestra presencia a las infinitas posibilidades que nos trae para construir la vida que soñamos.

Latest posts by Denise Barrios
(see all)