JUN AQ'AB'AL ~ Today's Ch'umil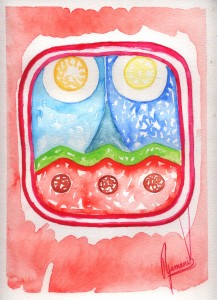 Let us be grateful for our past as it has shaped us into the being we are today, it has led us to the place in which we are now, which is the perfect place. But let us also remember that we cannot allow the 'negative' things we did in the past, even the things we did a moment ago, to affect our present moment. Let us learn from our past, using it as a tool for our growth and as an inspiration for our future, but without forgetting that we are creating that future at this moment, that it is in the now that we can change everything. That the present is the moment.
Agradezcamos nuestro pasado porque nos ha convertido en el ser que somos hoy, porque nos ha traído al lugar en el que estamos ahora, que es el lugar perfecto. Pero de igual manera recordemos que no podemos permitir que las cosas 'negativas' que hicimos en el pasado, incluso las que hicimos hace un instante, afecten nuestro momento presente. Aprendamos de nuestro pasado, usémoslo como una herramienta de crecimiento e inspiración para nuestro futuro, pero sin olvidar que ese futuro lo estamos creando en este momento, en este instante, que es en el ahora que podemos cambiarlo todo. Que el único momento que tenemos es el presente.

Latest posts by Denise Barrios
(see all)