JUN AJMAQ ~ Today's Ch'umil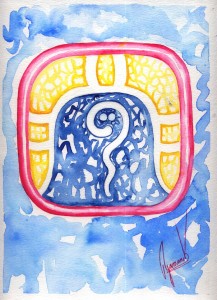 Today a new trecena begins under the energy of Ajmaq, the Ch'umil that invites us to experience life with curiosity, to undertake our inner and outer search with the characteristic sense of wonder of a child, who unveils the mysteries of existence with joy.
The coming thirteen days open the space to sacred wisdom, deep knowledge, and the important lessons that help us to understand and cultivate our inner being. Ajmaq, who symbolizes curiosity, introspection, and forgiveness, impels us to discover the knowledge that resides within and without us. Today is a good day to go into our inner selves and review the actions we have taken during the past 20 days, as this will help us to renew our personal energy, find harmony, connect, and transform our mistakes into wisdom.
Hoy inicia una trecena bajo la energía de Ajmaq, el Ch'umil que nos invita a ver la vida con curiosidad, a realizar nuestra búsqueda interior y exterior con el asombro característico de un niño, quien desvela los misterios de la existencia con alegría.
Los próximos trece días abren el espacio a la sabiduría sagrada, al conocimiento profundo y a las lecciones importantes que nos ayudan a comprender y cultivar nuestro ser interior. Ajmaq, que simboliza la curiosidad, la introspección y el perdón, nos impele a descubrir el saber que reside fuera y dentro de nosotros. Hoy es un buen día para adentrarnos en nuestro ser y hacer una revisión de las acciones que hemos tomado durante los pasados 20 días, pues esto nos ayudará a renovar nuestra energía personal, armonizarnos, conectarnos y convertir nuestros desaciertos en sabiduría.

Latest posts by Denise Barrios
(see all)