JU'LAJUJ NO'J ~ Today's Ch'umil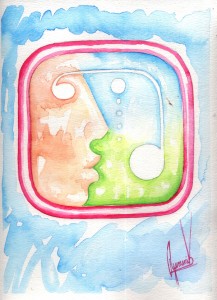 If we are aware of what we think, we will be able to recognize our low frequency thoughts, we acquire the power to transform them. Lajuj No'j brings us the teaching that when negative thoughts arise we should not fight against them, for when we fight against something we are giving it our energy, we give it power and life. Let us be grateful for these thoughts and the teaching they want to transmit, let us fill them with love and light and let them continue on their path. Let us rather use our energy and creative power to manifest the future we want.
Si somos conscientes de lo que pensamos, podremos reconocer nuestros pensamientos de baja frecuencia, adquirimos el poder de transformarlos. Lajuj No'j nos trae la enseñanza de que cuando surgen pensamientos negativos no debemos pelear contra ellos, pues al pelear contra algo le estamos dando nuestra energía, le damos fuerza y vida. Agradezcamos estos pensamientos y la enseñanza que nos quieren transmitir, llenémoslos de amor y de luz y dejemos que sigan su camino. Utilicemos nuestra energía y poder creativo para manifestar el futuro que queremos.

Latest posts by Denise Barrios
(see all)