JOB' B'ATZ' ~ Today's Ch'umil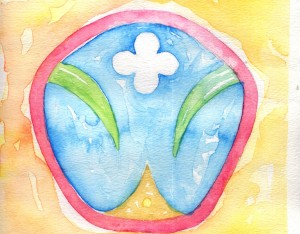 Job' brings the wisdom that arises from the ethereal element. The power of this number aligns us with the energy of the new reality, it connects us to magical thinking, to the conscious creativeness, and to our more subtle and spiritual self. Ajaw B'atz' reminds us that life is a path of learning, of moments in which we grow and discover, in which we weave, unravel, and weave ourselves again.
Today the energetic convergence speaks to us of understanding that reality is not static, it is evolving and growing. That each one of us is also experiencing processes of transformation and development and from this life we only take with us the growth that we achieved, our experiences, so let us be conscious weavers of our existence, let us live life with all the magic that it offers us.
Job' trae la sabiduría que surge del elemento etéreo. El poder de este número nos alinea con la energía de la nueva realidad, nos conecta al pensamiento mágico, a la creatividad consciente y a nuestro lado más sutil y espiritual. Ajaw B'atz' nos recuerda que la vida es un sendero de aprendizaje, de momentos en los que crecemos, descubrimos, tejemos, deshilamos y nos volvemos a tejer.
Hoy la fusión energética nos habla de comprender que la realidad no es estática, va en evolución y crecimiento, que cada uno de nosotros también estamos experimentando procesos de transformación y desarrollo y de esta vida solo nos llevamos el crecimiento que logremos alcanzar, nuestras experiencias, seamos entonces tejedores conscientes de nuestra existencia, vivamos la vida con toda la magia que nos regala.

Latest posts by Denise Barrios
(see all)