JOB' AJPU ~ Today's Ch'umil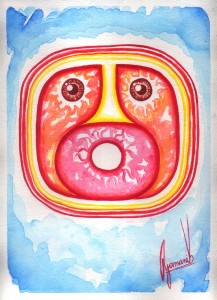 This day reminds us that in order to connect with our light we must also traverse our darknesses.
Ajpu is the energy that gives us the illumination we need to see with clarity, its wisdom helps us to transcend the ego so that we can clear our vision to observe what we still need to heal. Let us not be afraid to walk our path with every challenge it may bring, let us rather be open to learn from the situations or people that arise in it to help us see our wounds. Remember that everything is nothing more than a mirror that gives us the light to see what we need to solve in our being, but that it is within where we have to work and from where we can re-emerge. That situations or people on the outside are only there to gift us the learning and perfect conditions we need to achieve it.
Today the day reminds us that our magic resides in being ourselves, for being who we are, authentically, is the only way we have to fulfill our purpose in life, it is how we find our light, our wisdom, and happiness. Let us dare to shed our ego and see ourselves with authenticity.
Este día nos recuerda que para conectar con nuestra luz debemos transitar también nuestra oscuridad.
Ajpu es la energía que nos da la iluminación que necesitamos para ver con claridad, su sabiduría nos ayuda a trascender el ego para que podamos despejar nuestra vista y observar eso que aún tenemos por sanar. No tengamos miedo de transitar nuestro camino con todo y los retos que este pueda traer, más bien abrámonos a aprender de las situaciones o personas que surgen en él para enseñarnos nuestras heridas. Recordemos que todos son espejos que nos dan la luz para que podamos ver aquello que necesitamos solucionar en nuestro ser, pero que es adentro donde tenemos que trabajar, desde donde podemos resurgir. Que las situaciones o personas en el exterior solo están para regalarnos los aprendizajes y condiciones perfectas que necesitamos para hacerlo.
Hoy el día nos recuerda que nuestra magia esta en ser nosotros mismos, porque ser quienes somos, auténticamente, es la única manera que tenemos de cumplir nuestro propósito de vida, es como encontramos nuestra luz, nuestra sabiduría y felicidad. Atrevámonos a despojarnos del ego y vernos con autenticidad.

Latest posts by Denise Barrios
(see all)