B'ELEJEB' AJMAQ ~ Today's Ch'umil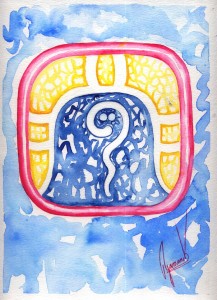 This day invites us to make a journey within, to take a moment of silence in order to listen to ourselves, to understand our purpose, and to become free from the emotional and mental burdens that hold us back. Let us enter into our being with kindness and respect, with love and empathy, let us be compassionate about our mistakes, let us forgive ourselves, and release all those burdens so that we can become the great being that we are. Let us remember that the answers we seek, the wisdom we need already exists within our being, we just need to learn to listen to inner-self and allow ourselves to blossom.
Este día nos invita a hacer un viaje hacia el interno, tomar un momento de silencio para escucharnos, para comprender nuestro propósito y liberarnos de las cargas emocionales y mentales que nos contienen. Entremos en nosotros mismos con cuidado y respeto, con amor y empatía, seamos compasivos con nuestros errores, perdonémonos, soltemos todas esas cargas para convertirnos en el grandioso ser que somos. Recordemos que las respuestas que buscamos, la sabiduría que necesitamos ya existe dentro de nuestro ser, solo debemos aprender a escucharnos y permitirnos florecer.

Latest posts by Denise Barrios
(see all)