B'ELEJEB' AJ ~ Today's Ch'umil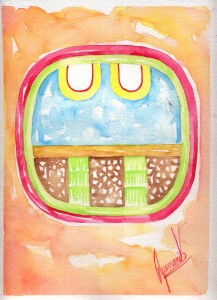 Our soul has chosen in our physical body the perfect temple to fulfill the purpose of life, to be ourselves, to reach consciousness. The energetic convergence of this day speaks to us of honoring that temple by genuinely expressing who we are, slowly shedding that which does not represent us, becoming closer to our true selves so that all the best parts of us can shine again.
Let us take a moment today to feel alive, to feel our feelings, to feel our thoughts, to feel our being. Let us recognize ourselves as the ever-expanding beings of love that we are.
Nuestra alma ha escogido en nuestro cuerpo físico el templo perfecto para cumplir con el propósito de vida, para poder ser nosotros mismos, para alcanzar la consciencia. La convergencia energética de este día nos habla honrar ese templo al expresar genuinamente quienes somos, desprendiéndonos poco a poco de aquello que no nos representa, sintiéndonos cada vez más cercanos a nuestro verdadero ser para que brillen de nuevo todas las mejores partes de nosotros.
Tomemos hoy un momento para sentirnos vivos, para sentir nuestros sentimientos, para sentir nuestros pensamientos, para sentir nuestro ser. Reconozcámonos como esos seres de amor en constante expansión que somos.

Latest posts by Denise Barrios
(see all)