8 AJPU ~ Today's Ch'umil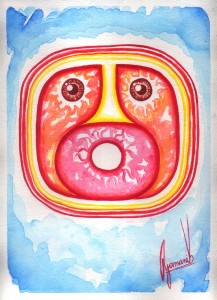 The Mayan energy of this day manifests the power of Father Sun over the material world. Ajaw Ajpu represents the spirit of the Sun, it is the strength of the spiritual warrior who expands its light and magic, it is the power of renewal which arises with each sunrise and it is also the wisdom and experience that are symbolized by the dusk. This Ch'umil gives us the clarity, knowledge, and strength we need to sow a new humanity, to be part of those beings of consciousness that shape this new era. The force of this Ch'umil converges today with number 8 which represents the physical and material world, this number emits a powerful force and energy. 8 Ajpu is the sign that teaches us about our connection with the material and the spirit world. Its power speaks to us of the holiness of life, of how the spiritual world is continuously manifested in this reality, we only have to be open to perceive it, learn to observe the divinity in everything, remembering that in this manifestation we are always united to the spiritual plane. The strength of this day inspires us to be the warriors of light who have the courage and wisdom to continue transiting the path of our spiritual search, who live each day with magic, and who impeccably fulfill their mission in this physical world.
La energía Maya de este día manifiesta el poder del Padre Sol sobre el mundo material. Ajaw Ajpu representa el espíritu del Sol, es la fuerza del guerrero espiritual que expande su luz y magia, es el poder que tenemos de renovarnos que surge con cada amanecer y es también la sabiduría y experiencia que son simbolizadas por el atardecer. Este Ch'umil nos da la claridad, conocimiento y fortaleza que necesitamos para sembrar una nueva humanidad, para ser parte de esos seres de conciencia que dan forma a esta nueva era. La fuerza de este Ch'umil converge hoy con el número 8 que representa el mundo físico y material, que emite una poderosa fuerza y energía. 8 Ajpu es el signo que nos enseña nuestra conexión con el mundo material y el mundo espiritual. Su poder nos habla de lo sagrado de la vida, de cómo el mundo espiritual se manifiesta continuamente en esta realidad, solo debemos saber percibirlo, aprender a observar la divinidad en cada cosa, recordando que en esta manifestación siempre estamos unidos al plano espiritual. La fuerza de este día nos inspira a que seamos esos guerreros de luz que tienen el valor y la sabiduría para continuar transitando el camino de la búsqueda espiritual, que viven cada día con magia y que cumplen con impecabilidad su misión en este mundo físico.

Latest posts by Denise Barrios
(see all)