7 AQ'AB'AL ~ Today's Ch'umil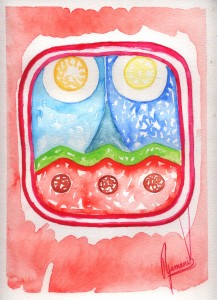 This Ch'umil brings a new dawn, a new opportunity. Ajaw Aq'ab'al enables us to restructure our energy, to correct our path. It is the renewal, the opening of new spaces of opportunity, it is a ray of light in the darkness, for this reason the elders call it the dawn and the dusk. Number 7 brings a catalyzing power that helps us advance, it symbolizes the final step before reaching the summit. Today 7 Aq'ab'al connects us to the knowledge we have acquired in the past, so that it becomes a tool that allows us to work in our present and shape our future. Remember that it is through our experiences that we can discover who we are, discovering and facing our darknesses is what helps us awaken, it's what allows us to find our essence. This is a day to bring light to the shadows, to dissipate the darkness and open the door to each new opportunity that arises like a sunrise. The light we need shines within us.
Este Ch'umil trae un nuevo amanecer, una nueva oportunidad. Ajaw Aq'ab'al nos permite reestructurar nuestra energía, corregir el camino, es la la renovación, el abrir nuevos espacios de oportunidad, es un rayo de luz en la oscuridad, por esto los abuelos le llaman el amanecer y el atardecer. El número 7 trae un poder catalizador que nos ayuda a avanzar, simboliza el último peldaño antes de alcanzar la cima. Hoy 7 Aq'ab'al nos conecta con el conocimiento que hemos adquirido en el pasado para que este sea una herramienta que nos permita trabajar en nuestro presente y determinar nuestro futuro. Recordemos que son nuestras experiencias las que nos ayudan a descubrir quiénes somos, el descubrir y enfrentar nuestra oscuridad es lo que nos ayuda a despertar, a encontrar nuestra esencia. Este es un día de traer luz a la sombras, de disipar la oscuridad y abrir la puerta a cada nueva oportunidad que surge como un nuevo amanecer. La luz que necesitamos brilla dentro de nosotros mismos.

Latest posts by Denise Barrios
(see all)