4 B'ATZ' ~ Today's Ch'umil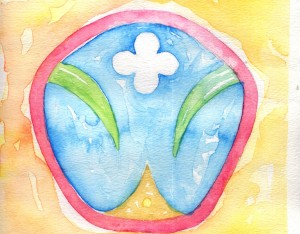 B'atz 'is a force that drives us to reach our destiny, to give shape to our life through each moment and each experience we live. It is the thread that weaves our existence, the thread that connects us to others and to everything. This Ch'umil brings the essence of love, of unity. Its convergence with number 4 leads us to our inner balance, to find stability and healing in each plane; and on this day in which it also merges with the creative force of the seed, which rules over this trecena (thirteen day cycle), an energy of growth and evolution is manifested. Our passage through this existence connects us to each of the energies that shape this reality, those energies that through their power and characteristics impel our evolution and give us the tools and wisdom we need to fulfill our purpose of being. Today we are especially connected to an energetic fusion that brings healing, balance, love, growth, and unity, that drives us towards our integral development and teaches us that we are a thread within the fabric of existence, that we are connected to everything and through this connection the development of our being, our evolution, and the evolution that we share with other beings and with Mother Earth is strengthened. Let's connect to the power of the day to advance in our personal and shared growth.
B'atz' es la fuerza que nos impulsa a alcanzar nuestro destino, a dar forma a nuestra vida por medio de cada momento y cada experiencia que vivimos. Es el hilo que teje nuestra existencia, ese hilo que nos enlaza a los demás y al todo. Este Ch'umil trae la esencia del amor, de la unidad. Su convergencia con el número 4 nos conecta a nuestro balance interior, al equilibrio y sanación en cada plano; y en este día en el que se fusiona también con la fuerza creadora de la semilla, que rige sobre la trecena, se manifiesta una energía de crecimiento y evolución. Nuestro paso por esta existencia nos conecta a cada una de las energías que dan forma a esta realidad, esas energías que a través de su poder y características impulsan nuestra evolución y nos otorgan las herramientas y sabiduría que necesitamos para para cumplir nuestro propósito de ser. Hoy estamos especialmente conectados a una fusión energética que trae sanación, balance, amor, crecimiento y unidad, que impulsa nuestro desarrollo integral y que nos enseña que somos un hilo dentro del tejido de la existencia, que estamos conectados al todo y que es a través de esta conexión que se fortalece el desarrollo de nuestro ser, nuestra evolución y la evolución que compartimos con los demás seres y con la Madre Tierra. Conectémonos al poder del día para avanzar en nuestro crecimiento personal y compartido.

Latest posts by Denise Barrios
(see all)