13 NO'J ~ Today's Ch'umil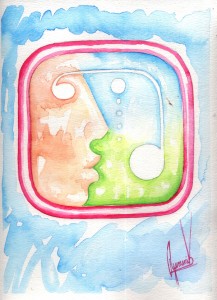 No'j is the deep and conscious thought, the intellectual and spiritual learning. It is the wisdom we acquire through the external world, from our relationships, from interacting with what surrounds us, from our connection to the wisdom that comes from the Cosmos and Mother Earth. It is also the wisdom that we acquire from the relationship with ourselves, with our inner world; it is the learning that comes from connecting to our divine essence. Developing our wisdom wholly, learning both from the external and the internal, is what allows us to achieve a higher level of awareness and spirituality, a true fulfillment. Today No'j converges with number 13 which symbolizes the experience, the realization, the power to change, and the spiritual development. Let's connect to the subtle but powerful energies that rule over this day, let's vibrate in resonance with them and absorb the knowledge that they bring. Today is the last day of the Kan trecena (13 days), thank this Ch'umil for its transmuting power, its energy, and wisdom, which has been with us and guided us during the last thirteen days
No'j es el pensamiento profundo y consciente, es el aprendizaje intelectual y espiritual. Es la sabiduría que adquirimos del mundo externo, de nuestras relaciones y de interactuar con todo lo que nos rodea, de nuestra conexión a la sabiduría que viene del Cosmos y de la Madre Tierra. Es también la sabiduría que adquirimos de nuestra relación con nosotros mismos, con nuestro mundo interno; es el aprendizaje que viene de la conexión con nuestra esencia divina. El desarrollar integralmente nuestra sabiduría, aprendiendo tanto de lo externo como de lo interno, es lo que nos permite alcanzar un nivel más alto de conciencia y espiritualidad, es lo que nos lleva a una verdadera realización. Hoy No'j converge con el número 13 que simboliza la experiencia, la realización, el poder de cambiar y el desarrollo espiritual. Conectémonos a las sutiles pero poderosas energías que rigen sobre este día, vibremos en resonancia con ellas y absorbamos el conocimento que nos brindan. Hoy es el último día de la trecena de Kan, agradezcamos a este Ch'umil por su poder transmutador, su energía y su sabiduría que nos ha acompañado y guíado durante los últimos trece días.

Latest posts by Denise Barrios
(see all)