11 B'ATZ' ~ Today's Ch'umil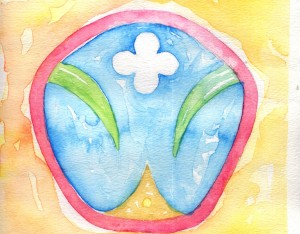 Ajaw B'atz is the time that unfolds before us, it is each experience that we live and that gives shape and meaning to our existence, it is the symbolic thread that weaves the history of our life, that thread that connects us with creation and that unites us to the whole. Number 11 teaches us that everything happens for a reason, its energy brings those difficulties that serve us as a guide along the path, those obstacles that sometimes arise to indicate that we must change course. Let's learn from the energies of this day to let flow, to know that everything happens for a reason and if things are delayed or hindered they may just be redirecting us. Let us trust that everything has a reason for being, let us understand that time passes at a perfect pace and everything comes at the right time. Pay attention to the signals that arise during this day, the trecena (thirteen day cycle) of Ajaw Imox provides us with the inutition we need.
Ajaw B'atz es el tiempo que se desenvuelve ante nosotros, es cada experiencia que vivimos y que da forma y significado a nuestra existencia, es el hilo simbólico que teje la historia de nuestra vida, esa hebra que nos enlaza con la creación y que nos une con el todo. El número 11 nos enseña que todo sucede por alguna razón, su energía trae aquellas dificultades que nos sirven como una guía en el camino, esos obstáculos que a veces surgen para indicarnos que debemos cambiar el rumbo. Aprendamos de las energías de este día a dejar fluir, a saber que todo sucede por alguna razón y si las cosas se retrasan u obstaculizan puede que solo nos estén redireccionando. Confiemos en que todo tiene una razón de ser, comprendamos que el tiempo transcurre a un ritmo perfecto, que todo llega en el momento adecuado. Prestemos atención a las señales que surjan durante este día, la trecena de Ajaw Imox nos da la intuición que necesitamos.

Latest posts by Denise Barrios
(see all)