10 Q'anil ~ Today's Ch'umil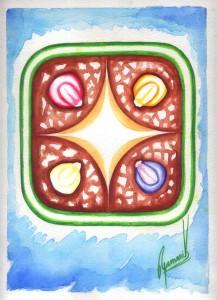 Number 10 symbolizes the cosmic and telluric energies that enter our body through our fingers and toes. Q'anil is a good day for beginnings; it represents the seeds that we plant whether in projects, crops, business, travel, friendship, or love. Just as your present is the result of your past actions, today you can use the cosmic and telluric energies to plant the seeds that you want to harvest tomorrow. Take some time to think about what you really desire for your future.

Following the footsteps of her family, Denise started her spiritual path at the age of 15, when she began traveling frequently to the highlands in her home of Guatemala to learn about Maya culture from the elders. She is the author of the book "The Energies of the Day" which is a daily guide to the energies of the Sacred Cholq'ij Calendar.

Latest posts by Denise Barrios (see all)