1 TZ'I' ~ Today's Ch'umil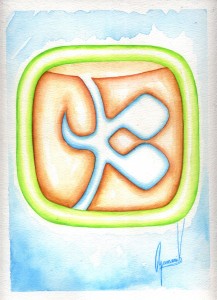 Today we are ruled by Ajaw 1 Tz'i' which is the symbol of the ancestral authorities. It is the day of justice, the energy that allows us to come close to the cosmic-earthly authorities. It is also the adviser, the one that helps us through its experience, the guidance he provides is the result of the learning he has obtained throughout life. Each of us are authorities and advisors, teachers and guides. For this we must try to become what Tz'i' represents, we must walk the righteous path, live in harmony with what surrounds us. Let's remember that spiritual evolution is not only about fulfilling a purpose, but it is shaping the being we want to become while we walk torwards that purpose, that is the growth. It is respecting the thoughts and words of others, their path of life. It is giving value and understandment to the people around us, for this is also the way of respecting our own path, of giving value and being compassionate with our own selves. Let's understand that what we see in those who surround us is a reflection of what we have within ourselves, what we are. Today is a good day to solve complicated situations that need to be treated with transparency and for which we need justice. We can ask for the intervention of the divine authorites. This is also the first day of the Tz'i' trecena, its energy and guidance will accompany us during these next 13 days.
Hoy nos rige Ajaw 1 Tz'i', que es el símbolo de las autoridades ancestrales, es el día de la justicia, la energía que nos permite acercarnos a la autoridad cósmica-terrenal. Es también el consejero, aquel que nos ayuda a través de su experiencia, su guía es el fruto del aprendizaje que ha obtenido a lo largo de la vida. Cada uno de nosotros somos autoridades y consejeros, maestros y guías, por ello debemos intentar ser lo que Tz'i' representa, debemos andar por el camino recto, vivir en armonía con lo que nos rodea. Recordemos que la evolución espiritual no es solo cumplir con un propósito, es el ir dando forma al ser en el que deseamos convertirnos mientras caminamos hacia ese propósito, ese es el crecimiento. Es el respetar los pensamientos y palabras de los demás, su camino de vida, es valorar y comprender a los otros, pues esa es también la manera de respetar nuestro propio camino, de valorarnos y ser compasivos con nosotros mismos. Comprendamos que lo que vemos en los que nos rodean es un reflejo de lo que nosotros mismos llevamos dentro, de lo que somos. Hoy es un buen día para resolver situaciones complicadas que necesitan ser tratadas con transparencia, para las que necesitamos que haya justicia, en este día podemos pedir la intercesión de las autoridades espirituales. Este es también el primer día de la trecena de Tz'i', su energía y guía nos acompañará durante estos próximos 13 días.

Latest posts by Denise Barrios
(see all)