12 IMOX ~ Today's Ch'umil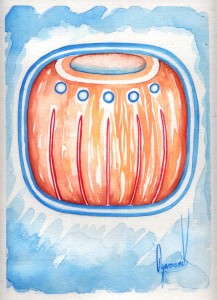 Ajaw Imox is our connection to the inner powers. It is the one that awakens our intuition, that opens our mind and gives us the receptive power to perceive the occult messages. It is the portal to the unknown, the energy that allows us to access the knowledge of magic. Today this Ch'umil converges with number 12 which is a catalyzing force that increases our sensitivity, for this reason, during this day our ability of perception and intuition is hightenend. Let's remember that we all have the power to receive messages from the spiritual plane, the universe continuously communicates with us; it sends us signals through dreams, people, the elements of nature, the words we hear, the thoughts and ideas that come to our mind, the synchronicities that happen around us. Let's pay attention to the messages that come to us. Our intuition is very powerful, we just need to flow, to break our limitations and structures to open ourselves to the great power that resides in us.
Ajaw Imox es nuestra conexión con los poderes internos, es quien despierta nuestra intuición, quien abre nuestra mente y nos da la receptividad para percibir los mensajes ocultos. Es el portal a lo desconocido, la energía que nos permite acceder al conocimiento de la magia. Hoy este Ch'umil converge con el número 12 que es una fuerza catalizadora que incrementa nuestra sensibilidad, por lo que durante este día nuestra capacidad de percepción e intuición se encuentra agudizada. Recordemos que todos tenemos el poder de recibir mensajes del plano espiritual, que el universo se comunica constantemente con nosotros; nos envía señales a través de los sueños, de las personas, de los elementos de la naturaleza, de las palabras que escuchamos, de los pensamientos e ideas que vienen a nuestra mente, de las sincronicidades que ocurren a nuestro alrededor. Pongamos atención a los mensajes que llegan a nosotros. Nuestra intuición es muy poderosa, solo tenemos que fluir, que romper nuestras limitaciones y estructuras para abrirnos al gran poder que reside en nosotros.

Latest posts by Denise Barrios
(see all)