WUQUB' TZ'KIN ~ Today's Ch'umil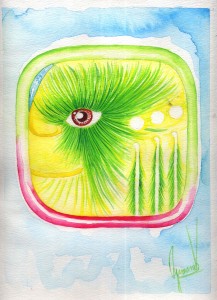 Tz'ikin holds a magnetic force that attracts fortune to every aspect of life, its energy is symbolized by the sacred bird that brings vision, connects us with the subtle, and inspires us to attain freedom. Wuqub' -7- is a number that brings us in touch with our inner self, its power helps us to obtain balance and harmony.
Today the energies tell us that everything that we need in order to reach fulfillment, we find it in ourselves. That our divine realization is in the connection and acceptance that we have of our being; for being happy, blissful, blessed, and lucky are things that come from within and not from the external. Let us accept with gratitude and love all that life has gifted us with, the whole beautiful being that we are.
Tz'ikin posee una fuerza magnética que atrae la buena fortuna a cada aspecto de la vida, su energía esta simbolizada por el ave sagrada que trae la visión, que nos comunica con lo sutil y nos habla de alcanzar la libertad. Wuqub' -7- es un número que nos conecta con nuestro ser interior, su poder nos ayuda a obtener el equilibrio y la armonía.
Hoy las energías nos hablan de que todo aquello que necesitamos para alcanzar la plenitud, lo encontramos en nosotros mismos. Que nuestra realización divina esta en la conexión y aceptación que tenemos de nuestro ser, pues el ser felices, dichosos, bien afortunados es algo que surge de adentro, que no es por lo de afuera. Aceptemos con gratitud y amor lo que la vida nos ha regalado, todo el ser hermoso que somos.

Latest posts by Denise Barrios
(see all)