WUQUB' TZ'I' ~ Today's Ch'umil
Join us on tonight, November 29th, at 5PM PT for a free, live online presentation, hosted by Chris Casillas of the Center for Shamanic Education and Exchange (CSEE).  Denise Barrios and Adam Rubel of Saq' Be' will be present to share some background on the Maya cosmogony, understanding of the Maya calendars including the sacred Cholq'ij, and the journey that has enabled these lineages to remain vital up to this current day.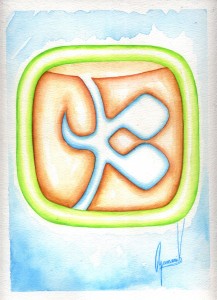 Under this Ch'umil every thought and creation, everything that has been given form, and everyone that was given the breath of life exists. Ajaw 7 Tz'i' symbolizes the divine energies, the cosmic authorities, it is the supreme law and the natural order; it is consciousness and respect for all that exists. It is the spiritual authority, the advisor, its energy guides us to the true reality. Today is the last day of creation, we have taken one more turn in the skein of time. After having harmonized our energy through yesterday's ritual, this is a moment to give thanks for each experience lived in the cycle that ends today, to start the new calendar round with a pure heart. It is a day to make an offering of gratitude. Today we can also make a ritual to bless the material that we will use in our offering tomorrow.
Bajo este Ch'umil existe cada pensamiento, cada creación, todo aquello a lo que se ha dado forma, todo aquel que ha recibido el aliento de vida. Ajaw 7 Tz'i' simboliza las energías divinas, las autoridades cósmicas, es la ley suprema y el orden natural; es la conciencia y respeto por todo lo que existe. Es la autoridad espiritual, el consejero, su energía nos guía a la realidad verdadera. Hoy es el último día de la creación, hemos dado una vuelta más a la madeja del tiempo. Luego de haber armonizado nuestra energía en el ritual del día de ayer, este es un momento para dar gracias por cada experiencia vivida en ciclo que hoy culmina, para iniciar la nueva vuelta calendárica con un corazón puro. Es un día para hacer una ofrenda de agradecimiento. Hoy también podemos hacer un ritual para bendecir el material que ofrendaremos el día de mañana. Eres un ser divino, eres un ser sagrado El universo no es afuera, el universo está adentro !

Latest posts by Denise Barrios
(see all)