WUQUB' IMOX ~ Today's Ch'umil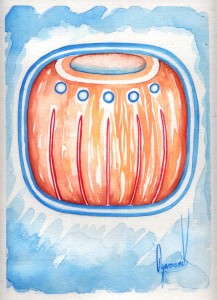 Imox is the energy that connects us with the unconscious mind, with the subtle and intuitive. Its power opens us to the possibility of entering the magical-energetic plane to achieve the integration of all our powers. This Ch'umil is one of those that most connects us to our capacity of activating our inner gifts, to awaken our gift of vision, intuition, revelations in dreams, and every dormant sense that we have and can develop. According to the elders, Imox is the energy that develops all that Tz'ikin provides. Now that we transiting the trecena of Tz'ikin, the merging of these two energies opens a special portal of connection to all these senses and powers. The number Wuqub' -7-, a number that connects us to high spirituality and a force that drives us to reach our full potential, guides us toward focusing our work on enhancing our inner magic. Let us access that magic through a meditation in Wuqub' Imox and Tz'ikin. We can light a light blue candle and focus on its flame, thereby practicing a technique of concentration on fire and awakening our dormant senses through this element.
Imox es quien nos conecta con la mente inconsciente, con lo sutil e intuitivo. Su energía nos abre la posibilidad de adentrarnos en el plano mágico-energético para lograr la integración de todos nuestros poderes. Este Ch'umil es uno de los que más nos conecta a nuestra capacidad de activar los dones internos, de despertar el don de la visión, la intuición, las revelaciones en sueños y cada sentido dormido que tenemos y podemos desarrollar. A decir de los abuelos y abuelas, Imox es la energía que desarrolla todo aquello que Tz'ikin nos ha dado. Ahora que nos encontramos transitando la trecena de Tz'ikin, la fusión de estas dos energías abre un portal especial de conexión con todos estos sentidos y poderes. El número Wuqub' -7-, que es un numero que nos conecta a la alta espiritualidad y una fuerza que nos impulsa a alcanzar nuestro máximo potencial, nos guía a enfocar nuestro trabajo en acrecentar nuestra magia interior. Accedamos a esa magia por medio de la intermediación de Wuqub' Imox y Tz'ikin. Podemos encender una vela celeste y enfocarnos en su llama, haciendo así una técnica de concentración en el fuego y despertando a través de este elemento nuestros sentidos dormidos.

Latest posts by Denise Barrios
(see all)