WUQUB' AJPU ~ Today's Ch'umil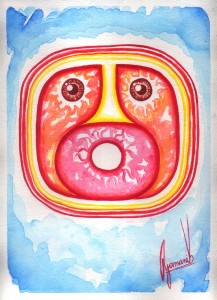 Ajpu is the energy that represents certainty, security, magic, and strength. It is the power that helps us overcome obstacles and which provides us with the clarity and confidence of knowing that what we do is significant to our essence, to connect with our light. This Ch'umil opens new cycles and opportunities. The number Wuqub' -7- symbolizes the final effort to reach our purpose, it is an energy that impels.
Every action we take brings us the result of learning, it is part of our growth. Today the energies invite us to deepen and become conscious of the actions we are taking, to discover if they are related to what we want to create and manifest in our life. Wuqub' Ajpu invites us to act purposefully, for when we walk our path with awareness is when we can create the reality we seek. This day gives us the magic, certainty, and drive we need to achieve our dreams.
Ajpu es la energía que representa la certeza, la seguridad, la magia y la fortaleza. Es el poder que nos ayuda a vencer los obstáculos y que nos da la claridad y confianza de que aquello que hacemos es importante para nuestra esencia, para conectar con nuestra luz. Este Ch'umil abre nuevos ciclos y oportunidades. El número Wuqub' -7- simboliza el esfuerzo final para alcanzar nuestro propósito, es una energía que impele.
Cada acción que emprendemos nos trae como resultado un aprendizaje, forma parte de nuestro crecimiento. Hoy las energías nos invitan a profundizar y hacernos conscientes de las acciones que estamos tomando, para descubrir si estas están relacionadas con aquello que queremos crear y manifestar en nuestra vida. Wuqub' Ajpu nos invita a actuar con propósito, pues cuando transitamos nuestro camino con consciencia es cuando podemos crear la realidad que buscamos. Este día nos da la magia, la certeza y el impulso que necesitamos para alcanzar nuestros sueños.

Latest posts by Denise Barrios
(see all)