WAQIB' TOJ ~ Today's Ch'umil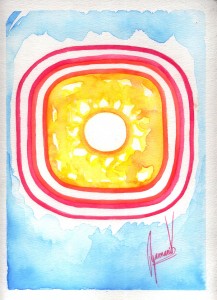 Toj is the energy that arises to remind us that one of the greatest powers we hold is our ability to live life in gratitude. Toj tells us that we have the power to decide how we perceive things, that we can decide to see life as a miracle for which we have many reasons to be grateful, as experiencing life in gratitude is a powerful force that attracts extraordinary things to our existence.
Toj symbolizes the Ceremonial Fire; it is the sacred ritual, the incense, the candle, the prayer we raise, and every action we undertake through which we manifest our gratefulness for life. It is the act of offering and giving thanks. It is living in consciousness, walking our life in a sacred way.
Toj es la energía que surge para recordarnos que uno de los poderes más grandes que tenemos es la habilidad de vivir la vida en gratitud. Toj nos recuerda que poseemos el poder de decidir como percibimos las cosas, que podemos decidir ver la vida como un milagro por el cual tenemos muchos motivos para estar agradecidos, pues experimentar la vida desde el agradecimiento es una fuerza poderosa que atrae cosas extraordinarias a nuestra existencia.
Toj simboliza el Fuego Ceremonial; es el ritual sagrado, el incienso, la vela, la oración que elevamos y cada acción que realizamos a través de la cual manifestamos nuestra gratitud por la vida. Toj es el acto de ofrendar y agradecer, es el vivir en consciencia, caminando nuestra vida de forma sagrada.

Latest posts by Denise Barrios
(see all)