WAQIB' KAME ~ Today's Ch'umil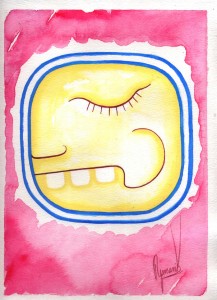 Waqib' -6- Kame reminds us that every trial that comes into our life arrives because our being is ready to experience it, to grow and evolve. Kame symbolizes the cycles of life, it is the changes that arise for each one of us, those that open our being to new teachings, to experience our transformation and acquire spiritual strength. The number Waqib' -6- contains a power that helps us defeat any negative energies, overcome the challenges and conflicts that arise in our path, and gather the learning that they bring with them.
The convergence of these two energies teaches us that we possess the clarity, wisdom, and strength we need to overcome and transmute any situation, to understand and traverse each of the cycles that begin and end in our lives. These energies tell us that each day, each moment, can be a new beginning; that it is not worth to block our flow through life with anger, resentment, frustration… for our time here is very short. Let us not look at things with too much seriousness, but rather enjoy and live each phase of our life to the fullest.
Waqib' -6- Kame nos recuerda que cada prueba que llega a nuestra vida viene porque nuestro ser está listo para experimentarla, para crecer y evolucionar. Kame simboliza los ciclos de la vida, es los cambios que surgen para cada uno de nosotros, esos que nos abren a nuevas enseñanzas, a experimentar nuestra transformación y adquirir fortaleza espiritual. El número Waqib' -6- contiene un poder que nos ayuda a vencer las energías negativas, a superar las pruebas y conflictos que surgen en nuestro camino y a recoger el aprendizaje que estas traen consigo.
La convergencia de estas dos energías nos enseña que poseemos la claridad, sabiduría y fortaleza que necesitamos para superar y transmutar cualquier situación, para comprender y transitar por cada uno de los ciclos que se abren y cierran en nuestra vida. Estas energías nos hablan de que cada día, cada instante, puede ser un nuevo comenzar; que no vale la pena obstaculizar nuestro fluir por la vida con el enojo, el resentimiento, la frustración… pues nuestro tiempo aquí es muy fugaz, no tomemos las cosas tan en serio, más bien disfrutemos y vivamos con todo cada fase de nuestra vida.

Latest posts by Denise Barrios
(see all)