WAQIB' AJMAQ ~ Today's Ch'umil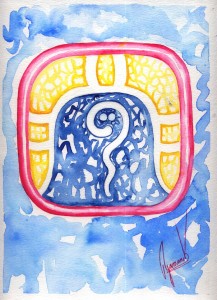 6 Ajmaq is the energy that drives us in the search for knowledge and experiences that expand our consciousness. It is through the innate curiosity that this Ch'umil grants us that we ignite the light that allows us to unveil the secret knowledge, that which is inaccessible to us until we become conscious. Ajmaq is also forgiveness, it is to be mindful of our actions, to convert our resentments into inner peace, to forgive our mistakes and those of others. Doing this is an important step in our spiritual growth. Today we can light a purple candle to work with the energy of forgiveness and curiosity, to expand our mind and awaken our consciousness.
6 Ajmaq es la energía que nos impulsa en la búsqueda del conocimiento y las experiencias que expanden nuestra conciencia. Es por medio de la curiosidad innata que nos otorga este Ch'umil que encendemos la luz que nos permite desvelar los conocimientos secretos, esos que nos están vedados hasta que tomamos conciencia. Ajmaq es también el perdón, es el ser conscientes de nuestros actos, es el convertir nuestros resentimientos en paz interior, perdonar nuestro errores y los de los demás. Hacer esto es un paso importante en el crecimiento espiritual. Hoy podemos encender una vela morada para trabajar con la energía del perdón y la curiosidad, para expandir nuestra mente y despertar nuestra conciencia.

Latest posts by Denise Barrios
(see all)