WAQIB' AJ ~ Today's Ch'umil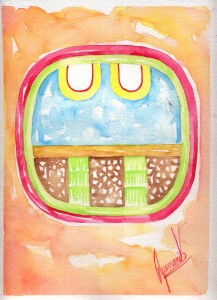 Let us be conscious that our body is our home in this reality, it is the instrument we have to develop our spiritual being in this physical-material plane. The calling of this day is to honor and respect it, let us nourish it with good thoughts, with high vibrations, let us be conscious of what we eat, let us see ourselves as seeds that must be nurtured correctly in order to grow and bear good fruits. Let us remember that spiritual consciousness must be expressed from the micro to the macro, let us also remember Mother Earth as the home of our being, let us honor and respect her.
Seamos conscientes de que nuestro cuerpo es nuestro hogar en esta realidad, es la herramienta que tenemos para desarrollar nuestro ser espiritual en este plano físico-material. El llamado de este día es a honrarlo y respetarlo, nutrámoslo de buenos pensamientos, de vibraciones elevadas, seamos conscientes de lo que comemos, veámonos como semillas que deben ser abonadas correctamente para poder crecer y dar buenos frutos. Recordemos que la consciencia espiritual debe ser expresada desde lo micro hasta lo macro, recordemos también a la Madre Tierra como el hogar de nuestro ser, honrémosla y respetemosla.

Latest posts by Denise Barrios
(see all)