WAJXAQIB' TZ'I' ~ Today's Ch'umil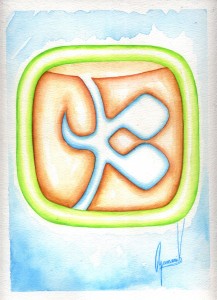 Tz'i' symbolizes justice and authority. It is the straight path, it is our consciousness which is like an inner voice that guides us and helps us to discern between what is right for our being and what is not, that impels us to live in harmony with existence. The energy that arises from Tz'i' is like an advisor that supports us in our journey through life, and although its presence is intangible, its force sustains us at all times. The number Wajxaqib' (8) provides us with strength and energy, its power connects us with the physical and material world, with our experience in this reality.
Today the energies remind us that while sometimes choosing the right path means making decisions that are difficult and require courage, we should always seek to choose the highest path for our being. Let us trust that inner voice that guides us, that voice that is connected to our heart, for our heart knows the way, let it guide us on this journey through life.
Tz'i' simboliza la justicia y la autoridad. Es el camino recto, es nuestra consciencia que es como una voz interior que nos guía y nos ayuda a distinguir entre lo que es correcto para nuestro ser y lo que no, que nos impele a vivir en armonía con la existencia. La energía que surge de Tz'i' es como un consejero que nos apoya en el transitar por la vida y aunque su presencia sea intangible, su fuerza nos sostiene en todo momento. El número Wajxaqib' (8) nos da fortaleza y energía, su poder nos conecta con el mundo físico y material, con nuestra experiencia en esta realidad.
Hoy las energías nos recuerdan que aunque a veces elegir el camino correcto significa tomar decisiones que son difíciles y que requieren valor, debemos tratar de escoger siempre el sendero más elevado para nuestro ser. Confiemos en esa vos interior que nos guía, esa voz que está conectada a nuestro corazón, pues nuestro corazón sabe el camino, permitamos que nos guíe en este viaje por la vida.

Latest posts by Denise Barrios
(see all)