WAJXAQIB' TOJ ~ Today's Ch'umil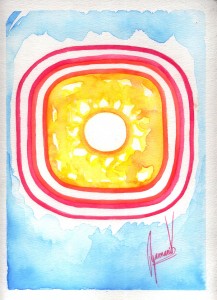 The challenge that may come with the Iq' trecena is that of having to get our thoughts and feelings in order, as they can become changeable and impulsive. Today, however, we are gifted with the healing fire of Toj that helps us find the serenity we need to calm our minds and listen to our inner selves. The wisdom of Toj reminds us of the immense power that arises when we open ourselves to experience and express our emotions from a place of tranquility and awareness. In this moment of ceremonial days, the power of the Sacred Fire of Toj brings us closer to our essence, it invites us to the transformational healing that emerges from being grateful, listening, and connecting with what we feel.
El reto que puede traer la trecena de Iq' es el de trabajar en ordenar nuestros pensamientos y sentimientos, pues estos pueden sentirse un tanto cambiantes e impulsivos, pero hoy el fuego sanador de Toj nos ayuda a encontrar la calma que necesitamos para relajar nuestra mente y así poder escuchar a nuestro ser interior. La sabiduría de Toj nos recuerda el inmenso poder que surge cuando nos abrimos a experimentar y expresar nuestras emociones desde un lugar de tranquilidad y consciencia. En este momento de días ceremoniales la fuerza del Fuego Sagrado de Toj nos acerca nuestra esencia, nos invita a esa sanación transformadora que surge de agradecer, escuchar y conectar con lo que sentimos.

Latest posts by Denise Barrios
(see all)