WAJXAQIB' AJPU ~ Today's Ch'umil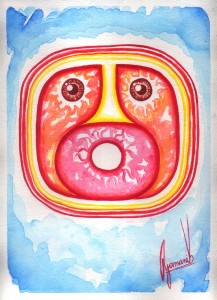 Wajxaqib' Ajpu is the energy that reminds us of the power that exists in the connection of the material plane with the spiritual plane. Its strength speaks to us of the sacredness of life, of how the spiritual world is continuously manifesting in this reality and we only need to know how to perceive it, to learn to observe the divinity in everything, remembering that in this manifestation we are always united to the spiritual plane. The energy of this day inspires us to be those warriors of light who have the courage and wisdom to continue walking the path of the spiritual quest, who live each day with magic and who fulfill their mission in this physical world with impeccability.
Wajxaqib' Ajpu es la energía que nos recuerda el poder que existe en la conexión del plano material con el plano espiritual. Su fuerza nos habla de lo sagrado de la vida, de cómo el mundo espiritual se manifiesta continuamente en esta realidad y solo debemos saber percibirlo, aprender a observar la divinidad en cada cosa, recordando que en esta manifestación siempre estamos unidos al plano espiritual. La energía de este día nos inspira a que seamos esos guerreros de luz que tienen el valor y la sabiduría para continuar transitando el camino de la búsqueda espiritual, que viven cada día con magia y que cumplen con impecabilidad su misión en este mundo físico.

Latest posts by Denise Barrios
(see all)