TZ'I'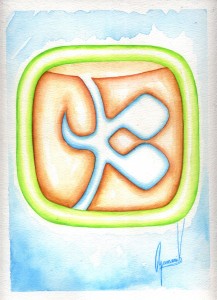 SIGNIFICANCE OF GLYPH
The glyph signifies the cane or staff that the Indigenous authority use; it is also the tail of the dog.
THE DAY
Signifies the dog; the secretary; the scripture; justice; authority and the guardian of the material and spiritual law. Represents the fidelity; order; it is the justice; the material and spiritual life from beginning to end. On this day we ask for the divine justice; to do away with criticism; with vices; so that we may have an organized life and so that we may discover all great secrets. It is a day to be in peace; to fix our errors, desires, sexual pleasures and to not fall in the wuq'ub qak'ix (arrogance, lies, ambition, envy, crime, ingratitude, ignorance); to be in balance with the spiritual and material. Nawal of the sexuality; of the stone of the sun; and of the ceremony to liberate us from poverty and vice.
THIS DAY IS GOOD FOR
To solicit Divine justice; to have good helpers; to do away with charges against justice; to liberate persons that are detained; to ask that justice may be corrected; to be just in life; to learn tolerance; to develop love; for community work; and to be good writers.
PRONUNCIATION BY ELDER MARIANO XUTUMIL