OXLAJUJ NO'J ~ Today's Ch'umil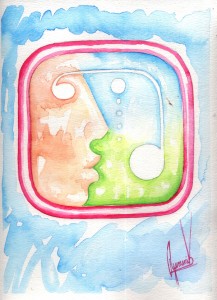 If we understand and trust the infinite power of the thought, we can transform our lives. Simply remember that everything is energy and that energy well directed is a very powerful force that can change our world.
On this day we are vibrating with the force of Ajaw No'j, the Ch'umil that brings the deep and conscious thought, its power connects us with our creativity, not only that which is related to art, but the capacity we possess to create our own reality, to shape our existence through our thought patterns, through the directionality of our ideas. And with number 13 that connects us with the whole and gives us the strength and wisdom that impels our evolution. 13 No'j tells us that when our mind repeats a thought constantly it gives it more and more energy and this energy transforms it into something real and tangible. Today's numeral and Ch'umil bring us the teaching that when we are aware of the power of creation that we possess, when we know that we can be in control of the thoughts to which we give energy, we can use our being to create, to heal ourselves, to manifest our future. The force of this day reminds us that the brain is a powerful and wonderful tool, but it needs the vibration of the soul and the heart to create a reality that leads us to the realization of our being. Let us create with awareness, without forgetting that narrow thoughts limit our ability to create. Let us continuously repeat affirmations that allow us to connect with the thoughts to which we want to give energy, affirmations such as "I believe in myself, I am healthy, I attract everything good into my life, I love the person I am, I am full of light and potential, I am grateful for the wonderful life I have…"
Today is the last day of the trecena of Ajaw Kan, let us take a moment to thank this Ch'umil for the energy, learning and power it has given us during this small cycle of thirteen days.
Si comprendemos y confiamos en el poder infinito del pensamiento podemos transformar nuestra vida, simplemente recordemos que todo es energía y que la energía bien dirigida es una fuerza muy poderosa que posee el poder de cambiar nuestro mundo.
En este día estamos vibrando con la fuerza de Ajaw No'j, el Ch'umil que trae el pensamiento profundo y consciente, su poder nos conecta con nuestra creatividad, no solo esa que está relacionada al arte, sino la capacidad que poseemos de crear nuestra propia realidad, de dar forma a nuestra existencia través de nuestros patrones de pensamiento, de la direccionalidad de nuestras ideas. Y con el número 13 que nos conecta con el todo y nos confiere esa fortaleza y sabiduría que impulsa nuestra evolución. 13 No'j nos habla de que cuando nuestra mente repite un pensamiento constantemente la da cada vez más energía y esta energía lo va transformando en algo real y tangible. El numeral y el Ch'umil de hoy nos traen la enseñanza de que cuando somos conscientes del poder de creación que poseemos, cuando sabemos que podemos tener el control de los pensamientos a los que damos energía, podemos usar nuestro ser para crear, para sanarnos, para manifestar nuestro futuro. La fuerza de este día nos recuerda que el cerebro es una herramienta poderosa y maravillosa, pero necesita de la vibración del alma y el corazón para crear una realidad que nos lleve hacia la realización de nuestro ser. Creemos con consciencia, sin olvidar que los pensamientos estrechos limitan nuestra capacidad de crear. Repitamos continuamente afirmaciones que nos permitan conectar con los pensamientos a los que queremos dar energía, afirmaciones como "creo en mí, tengo salud, atraigo todo lo bueno a mi vida, amo la persona que soy, estoy lleno de luz y potencial, agradezco la hermosa vida que tengo…"
Hoy es el último día de la trecena de Ajaw Kan, tomemos un momento para agradecer a este Ch'umil por la energía, aprendizaje y poder que nos ha dado durante este pequeño ciclo de trece días.

Latest posts by Denise Barrios
(see all)