OXLAJUJ AJMAQ ~ Today's Ch'umil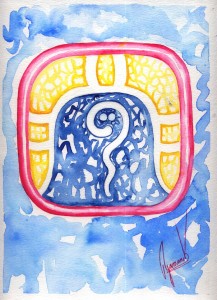 Ajmaq is the energy that opens the space to the profound knowledge, to the important lessons of life that help us understand who we are and why we are here. This Ch'umil invites us to be observant, to experience every moment of life with awareness and wonder, to go again within so that we can remember who we are. Ajmaq is also forgiveness, its wisdom brings us the teaching of not judging others or ourselves, but to respect the times and learnings of each of us, understanding that we all have different paths and perspectives of life. The number Oxlajuj (13) is an energy that allows us to collect and integrate all the wisdom that has emerged from our experiences.
This day, in which Oxlajuj Ajmaq flows in the trecena of K'at, speaks to us of not getting entangled in intolerance, of not letting our ego become so big that we come to believe we are here to teach others a lesson or to judge them. Today the energies remind us that although we share learnings, wisdom, and growth, that although we can be light, inspiration, and support each other's paths, our real work is the healing and growth we achieve in our being.
Ajmaq es la energía que abre espacio al conocimiento profundo, a las lecciones importantes de la vida que nos ayudan a comprender quienes somos y por qué estamos aquí. Este Ch'umil nos invita a prestar atención, a experimentar cada instante de la vida con conciencia y asombro, a volver adentro para recordar quienes somos. Ajmaq es también el perdón, su sabiduría nos trae la enseñanza de vivir sin juzgar ni a los demás ni a nosotros mismos, sino a respetar los tiempos y aprendizajes de cada uno, comprendiendo que todos tenemos diferentes caminos y perspectivas de la vida. El número Oxlajuj (13) es una energía que nos permite recoger e integrar toda la sabiduría que nos ha surgido de nuestras experiencias.
Este día en que Oxlajuj Ajmaq fluye en la trecena de K'at nos habla de no enredarnos en la intolerancia, de no hacer que nuestro ego sea tan grande que creamos que estamos aquí para enseñar a los demás una lección o para juzgarlos. Hoy las energías nos recuerdan que aunque compartimos aprendizajes, sabiduría y crecimiento, aunque podemos ser luz e inspiración y apoyar los caminos de los demás, nuestro verdadero trabajo es la sanación y el crecimiento que alcanzamos en nuestro ser.

Latest posts by Denise Barrios
(see all)