OXIB' TZ'I' ~ Today's Ch'umil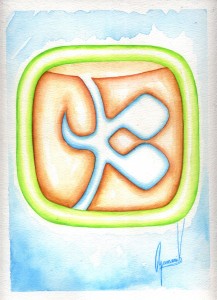 The energies that come together on this day impel us to connect with our role as counselors, to guide through our experiences and the teachings we have acquired along our walk of life.
The sowing of a seed of growth in the hearts of others is a responsibility that we must assume with humility, respecting the times of each person. Let us remember that wisdom exists within each one of us and our task is simply to share ours; sow in others so that they may develop their own wisdom, inspire without being imposing, understanding that everyone has their own process, which is perfect. Let us not forget that we are the authority of our existence, we are responsible for everything we create through it, let us then become that conscious authority that sows in others and in ourselves that which we want to reap.
Las energías que confluyen en este día nos impulsan a conectar con nuestro rol como consejeros, a guiar a través de nuestras experiencias y de las enseñanzas que hemos adquirido a lo largo de nuestro andar.
El sembrar una semilla de crecimiento en el corazón de los demás es una responsabilidad que debemos asumir con humildad, respetando los tiempos de cada quien. Recordemos que la sabiduría existe en cada uno de nosotros y nuestro deber solamente es compartir la nuestra, sembrar en los demás para que ellos desarrollen su propia sabiduría, inspirar sin ser impositivos, comprendiendo que cada quien tiene su proceso y que este es perfecto. No olvidemos que somos la autoridad de nuestra existencia, somos responsables de cada cosa que creamos a través de nuestra vida, seamos entonces esa autoridad consciente que siembra en los demás y en sí mismo aquello que desea cosechar.

Latest posts by Denise Barrios
(see all)