LAJUJ KAWOQ ~ Today's Ch'umil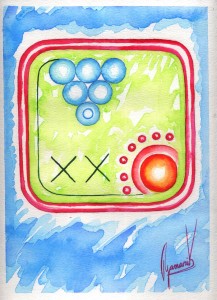 Remember that we are all brothers and sisters, we are part of a whole, and each time we give to others we are also giving to ourselves, for we are one and we are all journeying together in this human experience.
Today we are ruled by an energy that is related to the family, to the community, to humanity. Ajaw Kawoq is the Ch'umil that teaches us that even though each one of us has an individual purpose to fulfill, we are connected in the joint evolution, we also have a collective purpose that is linked to each being and to nature. Kawoq represents all that is grouped, it is the force that is created through being united, for we are part of a whole, of an earthly and cosmic family. The energy of this sign brings material and spiritual abundance, it is the one that expands, that multiplies, that drives us to share. Today it flows together with number 3 which symbolizes creativity, movement, and action. This number speaks to us about reciprocity, it teaches us that our actions determine our destiny, that what we give expands and returns to us. The number 10 is a channel of connection that brings us closer to the wisdom of the universe and nature. When we manage to activate the power of this number we obtain a strength that gives us the impulse we need to achieve whatever we set out to achieve.
Recordemos que somos hermanos y hermanas, somos parte de un todo, que cada vez que damos hacia afuera también estamos dando hacia adentro, pues somos uno y todos transitamos juntos esta experiencia humana.
Este día nos rige una energía que está relacionada a la familia, a la comunidad, a la humanidad. Ajaw Kawoq es el Ch'umil que nos enseña que aún cuando cada uno de nosotros tiene un propósito individual que desarrollar, estamos conectados a la evolución conjunta, tenemos también un propósito colectivo que está unido a cada ser y a la naturaleza. Kawoq representa todo lo que se agrupa, es la fuerza que se crea a través de la unidad, pues somos parte de un todo, de una familia terrenal y cósmica. La energía de este signo trae la abundancia material y espiritual, es el que expande, el que multiplica, el que nos impulsa a compartir. El número 10 es un canal de conexión que nos acerca a la sabiduría del universo y de la naturaleza. Cuando logramos activar el poder de este número obtenemos una fortaleza que nos da el impulso que necesitamos para alcanzar cualquier cosa que nos propongamos.

Latest posts by Denise Barrios
(see all)