LAJUJ KAWOQ ~ Today's Ch'umil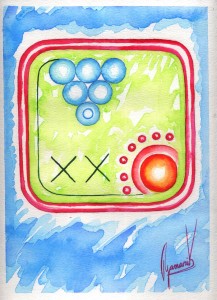 The energy of Lajuj (10) Kawoq arises to remind us that even though our evolution is an individual work, much of our growth comes from our relationships, from learning from and nurturing one another, from supporting each other along the way. Today Lajuj Kawoq teaches us the importance of being supportive to others, of giving from the heart and without judgment, but also of being open to receive help when we need it, for even though our life path is personal, we do not have to walk it alone. We are by nature community beings, let us then come together as peoples, as human beings, let us be united in our spirituality regardless of our race or creed, but through the love we have in our hearts which allows us to accept and hold one another.
La energía de Lajuj (10) Kawoq surge para recordarnos que aunque nuestra evolución es un trabajo individual, mucho de nuestro crecimiento surge de nuestras relaciones, de aprender y de nutrirnos unos a otros, de apoyarnos en el camino. Hoy Lajuj Kawoq nos enseña la importancia de saber ser apoyo para los demás, dando desde el corazón y sin juzgar, pero también de saber abrirnos a recibir ayuda cuando la necesitamos, pues aunque nuestro sendero de vida sea personal, no tenemos porqué andarlo solos. Somos por naturaleza seres comunitarios, unámonos como pueblos, como seres humanos, unámonos en nuestra espiritualidad sin importar la raza o el credo, sino el amor que tenemos en nuestros corazones y por medio del cual nos aceptamos y nos sostenemos unos a otros.

Latest posts by Denise Barrios
(see all)