LAJUJ IMOX ~ Today's Ch'umil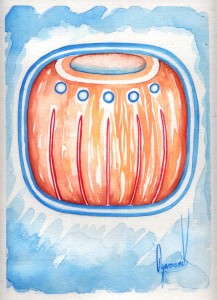 This day brings the possibility of connecting with ease to higher planes of consciousness. Imox opens portals of connection with the universal source. This Ch'umil, which gives us the power of perception, receptivity, and intuition, converges on this day with number 10 which is the interconnection with the cosmic-telluric energies, and with the trecena (thirteen day-cycle) of Ajaw E which is a force that allows us to travel the cosmic paths, for which our power to access these more subtle worlds has a great strength during this day. Let us remember that all of us, even if it is unconsciously, receive the powerful energy of transformation, healing, magic, and wisdom that arises from these higher dimensions. During this 10 Imox let's seek to connect consciously to receive the vibrational frequency of these planes; let us meditate, activate, reconnect, and elevate our intuition. Let us avoid contaminating our being with thoughts, feelings, and foods of low vibration, for the higher our vibrational frequency, the easier it will be for us to connect to these subtle energies.
Este día trae la posibilidad de conectar con facilidad a planos superiores de consciencia. Imox abre portales de conexión con la fuente universal. Este Ch'umil, que nos otorga el poder de la percepción, la apertura y la intución, converge en este día con el número 10 que es la interconexión con las energías cósmico-telúricas, y con la trecena de Ajaw E que es la fuerza que nos permite transitar los caminos cósmicos, por lo que nuestro poder de acceder a estos mundos más sutiles tiene mucha fuerza durante este día. Recordemos que todos, aunque sea de manera inconsciente, recibimos la poderosa energía de transformación, sanación, magia y sabiduría que surge de estas dimensiones superiores. En este 10 Imox busquemos conectarnos desde la consciencia para recibir la frecuencia vibratoria de estos planos; meditimemos, activemos, reconectemos, elevemos nuestra intuición. Tratemos de evitar contaminar nuestro ser con pensamientos, sentimientos y alimentos de baja vibración, pues mientras más alta sea nuestra frecuencia vibratoria más fácil nos será conectar con estas energías sutiles.

Latest posts by Denise Barrios
(see all)