LAJUJ IMOX ~ Today's Ch'umil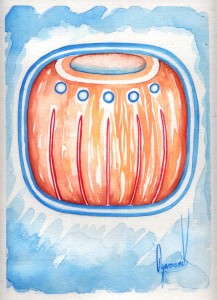 Imox is the power that reminds us that our reality interacts with other dimensional realities that pass through us in the form of energies that lead us to remember and learn through dreams, intuitions, messages, and unusual things that emerge in our journey. The energy of Imox, which opens us to the understanding of that interdimensional wisdom, converges today with the number Lajuj (10) which is the portal that connects us with the cosmic-telluric wisdom, and with the trecena of E which is the force that allows us to transit the cosmic and sacred paths, so our power to access these more subtle worlds has a great strength during this day.
Let us remember that each of us, even if we are not aware of it, receive the powerful energy, healing, and wisdom that arises from other planes of consciousness. On this Lajuj Imox let us seek to connect consciously to receive the vibrational frequency of these realms; let us meditate, activate and be open to our intuition. Let us avoid contaminating our being with thoughts, feelings, and foods of low vibration, for the higher our vibratory frequency, the easier it will be for us to connect with these subtle energies.
Imox es el poder que nos recuerda que nuestra realidad interactúa con otras realidades dimensionales que pasan por nosotros en forma de energías que nos llevan a recordar y aprender por medio de sueños, presentimientos, mensajes y cosas inusuales que surgen en nuestro andar. La energía de Imox, que nos abre a la comprensión de esa sabiduría interdimensional, converge hoy con el número Lajuj (10) que es el portal que nos conecta con la sabiduría cósmico-telúrica, y con la trecena de E que es la fuerza que nos permite transitar los caminos cósmicos y sagrados, por lo que nuestro poder de acceder a estos mundos más sutiles tiene mucha fuerza durante este día.
Recordemos que cada uno de nosotros, incluso si no somos conscientes de ello, recibimos la poderosa energía, sanación y sabiduría que surge de otros planos de consciencia. En este Lajuj Imox busquemos conectarnos desde la consciencia para recibir la frecuencia vibratoria de estos planos; meditemos, activemos y abrámonos a nuestra intuición. Tratemos de evitar contaminar nuestro ser con pensamientos, sentimientos y alimentos de baja vibración, pues mientras más alta sea nuestra frecuencia vibratoria más fácil nos será conectar con estas energías sutiles.

Latest posts by Denise Barrios
(see all)