LAJUJ AQ'AB'AL ~ Today's Ch'umil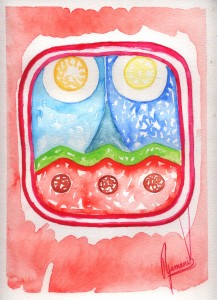 Aq'ab'al symbolizes the dawn, the new day. Its energy brings that first ray of light that dispels the darkness, that illuminates and which is the guide that helps us to see the opportunities that lie ahead. The number Lajuj -10- is a power that leads us to explore ourselves in order to manifest our true being, this number carries an energy for seeking and growth, it is a force that drives us. This day opens the space for renewal, changes, and restructuring.
Aq'ab'al, who connects us to our light, is also the power that helps us navigate our darkness, who guides us in the integral discovery of our being. Let us open the door to the light that makes the invisible visible, so that we can perceive everything with a new vision. Let us remember that in order for the new to emerge we must learn to let go of the old, that to be able to open ourselves to new experiences we must embrace the change that leads us to leave certain things behind. Let us not be afraid of the unknown, for we have an inner guide that shows us the way, let us listen to it, trust it, and let its light enlighten us and lead us to create and traverse our personal path.
Aq'ab'al simboliza el amanecer, el nuevo día. Su energía trae ese primer rayo de luz que disipa la oscuridad, que ilumina, que es nuestra guía y nos ayuda a ver las oportunidades que se presentan en el camino. El número Lajuj -10-, es un poder que nos lleva a explorarnos para poder manifestar nuestro ser verdadero, este número trae una energía de búsqueda y crecimiento, es una fuerza que nos impulsa. Este día abre el espacio a la renovación, a los cambios y la reestructuración.
Aq'ab'al, que nos conecta a nuestra luz, es también quien nos ayuda a navegar nuestra oscuridad, es quien nos guía en ese descubrimiento integral de nuestro ser. Abramos la puerta a esa luz que hace visible lo invisible, para que podamos así ver todo con una nueva visión. Recordemos que para que pueda surgir lo nuevo tenemos que aprender a soltar lo viejo, que para poder abrirnos a nuevas experiencias debemos abrazar el cambio que nos lleva a dejar ciertas cosas atrás. No tengamos miedo a lo desconocido, pues tenemos una guía interior que nos indica el camino, escuchemos, confiemos y dejemos que su luz nos ilumine y nos conduzca a crear y transitar nuestro propio sendero.

Latest posts by Denise Barrios
(see all)