KAME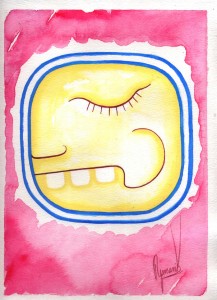 SIGNIFICANCE OF GLYPH
The glyph signifies death and it is represented by the closed eyes and the closed mouth with the teeth hanging out. The vertical line represents the cycles of re-incarnation.
THE DAY
This is a special day to have contact with the ancestors; to do away with mortal illnesses; accidents; to ask for protection for travels; to find access to the higher knowledge. On this day, there is communication with the higher beings and there is access to dimensional portals. It is also used to seek advice from the Nawales; so that no harm may come to the community, vision throughout the stones; to give us capacity and tranquility; so that the plants may sprout; so that our instincts may increase; so that we may have internal strength; so that we may be liberated from vices; to finish with bad businesses; to end suffering; to harmonize negative energies; to cut hate, grudges and lower passions. Symbolizes the death; the change in the spiritual state; the beginning the advice; the diviner; the fortune; the instinct; the visionaries; the end; the falling; the sprouting or rebirth.
THIS DAY IS GOOD FOR
So that life may support us; to transmute the cycles of life; to do away with bad death and big accidents; to ask for the ancestral wisdom; to ask for good signs; to ask for good advisors and spiritual guides; to end relationships that aren't beneficial to us; so that we may have nocturnal vision; to ask for protection in the community; to not have sudden death so we can finish our purpose in life; to ask that there may be no wars; to liberate us from any vices; to finish bad businesses.
PRONUNCIATION BY ELDER MARIANO XUTUMIL