KEB' K'AT ~ Today's Ch'umil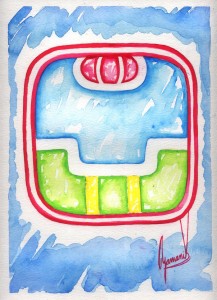 K'at symbolizes the net, it is the entanglements or traps that we face in life, but it is also the power that allows us to free ourselves from any problems. Number Keb' -2- represents complementarity, its energy contains all the aspects that form each thing, it is the energies that even if they seem to be opposed are necessary to create a complete and harmonious whole.
Our feelings speak to us and when we learn to listen to them with honesty they are the messengers and guides that show us what we need to know, the aspects of our being that we must integrate and harmonize. Let us pay attention to the things that are blocked in our life, for example our relationships, our economy, our ideas… and let us listen to what they want to tell us. Having the consciousness to know if when we express ourselves in these aspects we do it flowing from our authentic sense or if we are just trying to fit into the parameters of others or of society. Let us open ourselves today to listen to ourselves, to follow our heart, let us remember that the nets that contain us are mostly of our own making and that nothing prevents us from freeing ourselves from them.
K'at simboliza la red, es los enredos o dificultades que se nos presentan en la vida, pero tambien es el poder que nos permite liberarnos de los problemas. El número Keb' -2- representa la complementariedad, su energía contiene todos los aspectos que forman cada cosa, es las energías que aunque parecieran opuestas son necesarias para crear un todo completo y armónico.
Nuestros sentimientos nos hablan y cuando sabemos escucharlos con honestidad ellos son los mensajeros y guías que nos muestran aquello que necesitamos saber, los aspectos de nuestro ser que debemos integrar y armonizar. Prestemos atención a las cosas que están bloqueadas en nuestra vida, por ejemplo nuestras relaciones, nuestra economía, nuestras ideas… y escuchemos qué nos quieren decir. Si cuando nos expresamos en estos aspectos lo hacemos fluyendo desde nuestro sentir autentico o solo estamos tratando de encajar en los parámetros de otros o de la sociedad. Abrámonos hoy a escucharnos, a seguir nuestro corazón, recordemos que las redes que nos contienen son en su mayoría creadas por nosotros mismos y que nada nos impide liberarnos de ellas.

Latest posts by Denise Barrios
(see all)