KEB' AQ'AB'AL ~ Today's Ch'umil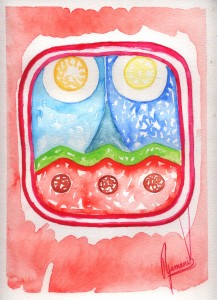 Aq'ab'al represents the moment in which darkness comes to an end, it is that first ray of light that illuminates, that brings clarity. Its energy also allows us to connect the wisdom of the past with the present moment, giving us the ability to use our learnings and the ancient knowledge as tools that help us face difficulties with wisdom, which are a light that brings us the clarity we need to traverse the now. Today Aq'ab'al converges with the number Keb' -2- which manages the polarities, it is an energy that can create balance and helps us to integrate and harmonize our being.
Let us imagine the first ray of light in the darkness, the light that brings clarity, that dispels and shows us the way, that is the energy of this day. Today the invitation is to go within to connect with our integral being and find the light in our darkness, that light that allows us to see ourselves without judging, that leads us to integrate and awaken. Let us remember that in us we hold all the answers and tools we need, we only have to connect with our personal ray of light to be able to perceive them, and today Keb' Aq'ab'al illuminates the path.
Aq'ab'al es el momento en el que termina la oscuridad, es ese primer rayo de luz que llega a iluminar, que trae claridad. Su energía también nos permite conectar la sabiduría del pasado con el momento presente, dándonos la habilidad de usar nuestro aprendizaje y el saber ancestral como herramientas que nos ayudan a enfrentar las dificultades con sabiduría, que son una luz que nos da la claridad que necesitamos para transitar el ahora. Hoy Aq'ab'al converge con el número Keb' -2- que maneja las polaridades, que es una energía que puede crear el balance y que nos ayuda a integrar y armonizar nuestro ser.
Imaginemos el primer rayo de luz en la oscuridad, esa luz que aclara, que disipa, que nos enseña el camino, esa es la energía que rige sobre este día. Hoy la invitación es a ir hacia adentro para conectar con nuestro ser integral y encontrar la luz en nuestra oscuridad, esa luz que nos permite vernos sin juzgar, que nos conduce al integrar y al despertar. Recordemos que en nuestro ser están todas las respuestas y herramientas que necesitamos, solo debemos conectar con nuestro rayo de luz personal para poder verlas, y en este día Keb' Aq'ab'al nos ilumina el camino.

Latest posts by Denise Barrios
(see all)